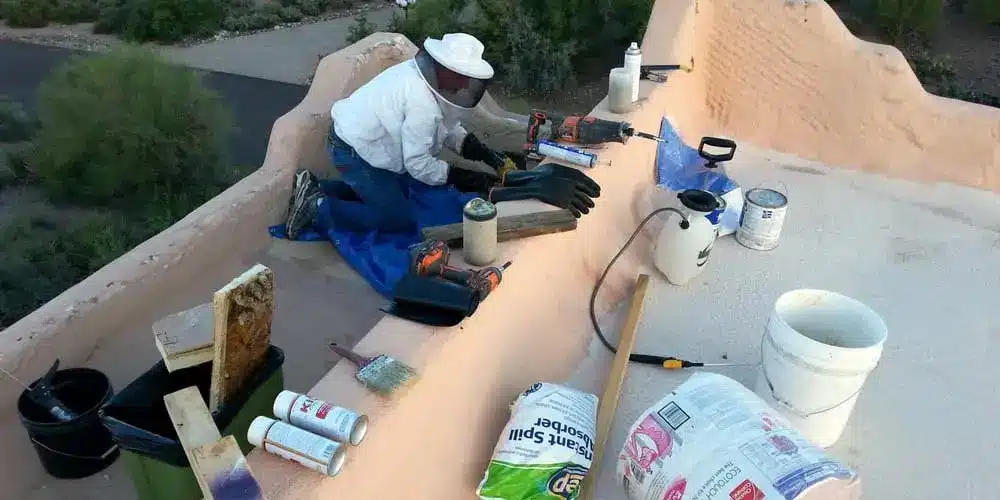 Repair Service: Bee Removal in Mesa, Scottsdale, Gilbert, Metro Phoenix AZ
The Beehive Bee and Wasp Removal
We specialize in extreme or difficult problem jobs, as well as basic Honeycomb removal and Construction Repair.
If you notice bees inside your home, it's very possible there could be a new bee swarm or an established bee colony inside your roof or walls. This is the time to call THE BEEHIVE. We recommend not waiting as bees multiply and increase rapidly. They can build a large hive in a short amount of time (in just three to four weeks). Large hives can cause damage to your home. After an bee extermination, you may need the honeycomb removed and repairs made to the Roof, Drywall, Ceilings, Stucco Wall or Cinder block walls, etc. where the removal took place.
The best way to keep bees from re-infesting the same area is to remove the honeycomb as soon as possible. This requires disassembly of the structure where the bee colony was located. Once the comb and honey have been removed, it will be sprayed with a sealing primer to cover any scent left behind. Then, we'll pack it with insulation to occupy the void, as well as sealing from the inside and do any necessary repairs — making sure that the bees cannot get in again.
"What a day. Roofers are here and the bees came uninvited. What a mess. I checked Google and found The Bee Hive. Arrived in less than an hour, check. Quickly assessed the situation, check. Implemented plan to remove bees out of the way of roofers, check. Eddy, took such good care of us. Professional, experienced, personable and completed the job in about half an hour, start to finish. Roofers are happy and we would recommend this company any day. Thanks for saving our day. Have a good one".
Dorothy Jane Pearson-Tihkan
We repair flat roofs, foam roofs, tile roofs, stucco walls, drywall, etc.
All repairs at the beehive removal location come with a free 3-year warranty.
Call us today and we'll get the job done right, quickly and safely. We're locally owned and operated, and open 24/7.