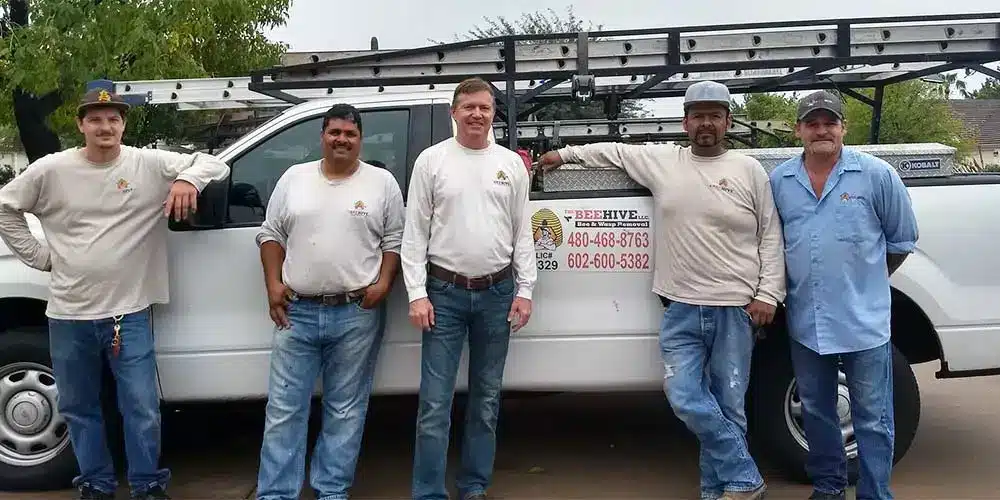 About Us: Bee Removal Mesa AZ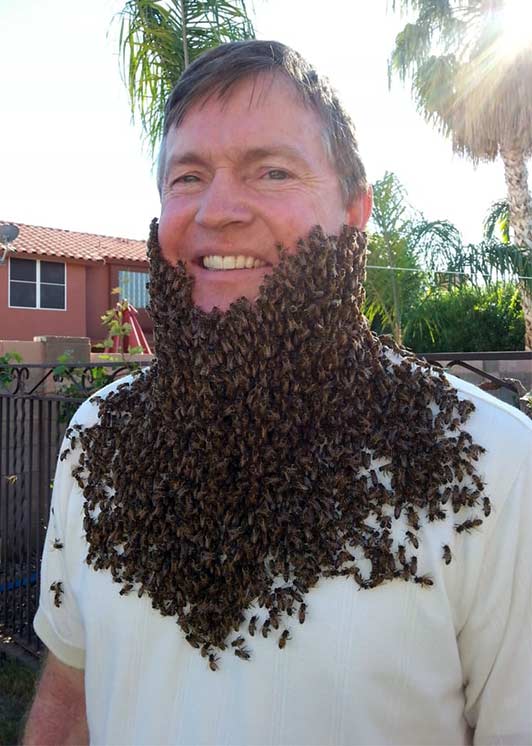 Owner of THE BEEHIVE Bee and Wasp Removal
"Kevin is a bee wizard!! Fast and courteous — would highly recommend."
– Troy Schmidt
At THE BEEHIVE we specialize not only in difficult problem bee infestations, but also basic bee or wasp removal. We've been working with bees for well over 30+ years. We know bees.
Caring for our customers is a important to us, making sure the bee removal job was done correctly and giving a warranty on all bee hive removal and honeycomb removal jobs that we do. The Beehive carries above standard liability insurance and work mans comp on all bee removal Tech's.
We have been life long Beekeepers, producing honey and pollinating for farmers & have been involved with agriculture and construction plus have been removing bees since the year 1984. The Beehive Bee and Wasp removal has been Arizona State, Office of Pest Management licensed & Certified. We are in full compliance with EPA and Insured, plus we carry workers compensation insurance.
Being a 2nd-generation beekeeper, working up close with bees comes like second nature to us. If you need advice on any beehive removal or honeybee removal, wasp removal, live bee swarm relocation, bee extermination, or bee control, give us a call. We're here to help.
I also practice apitherapy (i.e., bee sting treatments). I've been around bees my entire life and have grown to really appreciate honeybees. In fact, I like to keep them alive when possible. I have extensive experience with beekeeping and bee removal. I even offer construction repair services — making any necessary repairs to stucco walls, roofs, or anywhere else where damage may have occurred in removing the honeycomb.
If you have bees at your home or property, you can be confident that you're in good hands with The Beehive.
We practice safe bee elimination and bee control techniques.
The Beehive is fully licensed and insured, carrying work mans comp insurance for our employees and liability.
We protect your family, pets and property.
Locally owned and operated.
Ask us about our raw, local honey available for sale!
Call Us Today: 602-600-5382
Here's what one of our customers had to say about The Beehive.
4/26/2018
"Good day to all,
I wanted to give Mr. Tom DeLisle a shout out and two thumbs up. As you are aware I recently had a bee issue and called your company to come out. We scheduled the appoint to 5 pm on 04/23/18 Tom was not only on time but 5 minutes early (when does that ever happen) diagnosed the problem, explained to me in his experience what he thought he was going to find in words that I could completely understand. I asked him to proceed with the treatment and let me know what course of action we would need to explore. Tom not only provided the treatment but came and found me to explain he would need to drill a small hole in the stucco before doing so and said he would fill the hole once the treatment was complete. There is window right where Tom was working so I could see the care and professionalism he exhibited during the treatment and soon the bees were dropping fast. Tom also told me not to be alarmed if I saw bees the next morning as it may take up to 24 hours to be rid of all the bees. He was spot on as I checked before leaving for work and a few were still hanging around. Then came the bad news. The bees are inside the wall with a lot of honeycomb. If I did not address what was going on inside the wall it would not be long before the pest would be back. I have to say that the price was a shock to the system at first. However Tom fully explained the entire process and why it was required. Long story but it was decided to move forward with Tom's recommendation after he had already left my property. When I called the office around 6:30 pm that night a message was sent to Tom whom responded immediately and scheduled me @ 7:00 am the next morning. I received a text shortly after 7 stating he was on site and getting to work. A couple of hours later another text showing the opening in my roof and 60 lbs. of honeycomb removed. When I returned home from work that afternoon the gate was re-locked, all debris, removed, and the roof put back to its original shape if not even better than Tom found it.
I am getting long winded but I wanted you to know you found a gem when you hired Tom. He is a superstar in my world as well as your entire company. Bees are a safety hazard and to have the issue addressed so quickly and professionally was simply a godsend to me.
Sincerely,
Mark Struckman"
Facts about Bees
Did you know most bee swarms in the Valley are domestic honeybees, contrary to what the news and other bee removal company say? This knowledge comes from firsthand experience. Even though most are the domestic European bees, they can still be a public safety concern. Bees are unpredictable; they're gentle one day and then very aggressive the next.
Bee's play an important role to our environment. If we can keep them alive we'll relocate them to a beekeeper.
Bees generally are not aggressive unless they're threatened, but this is not always the case. Bees are very unpredictable, acting like tame bees one day and then acting like killer bees the next. The best way to avoid being stung is to stay away from the hive. If you're being attacked by bees, get inside as fast as possible. Don't try jumping in the pool, as they'll wait for you. Little children and senior citizens are at higher risk of getting multiple stings because little children don't know to run away and senior citizens usually can't run fast enough to get away. There's many myths about how not to get stung, such as staying still, not being afraid, or if you don't bother them they won't bother you.