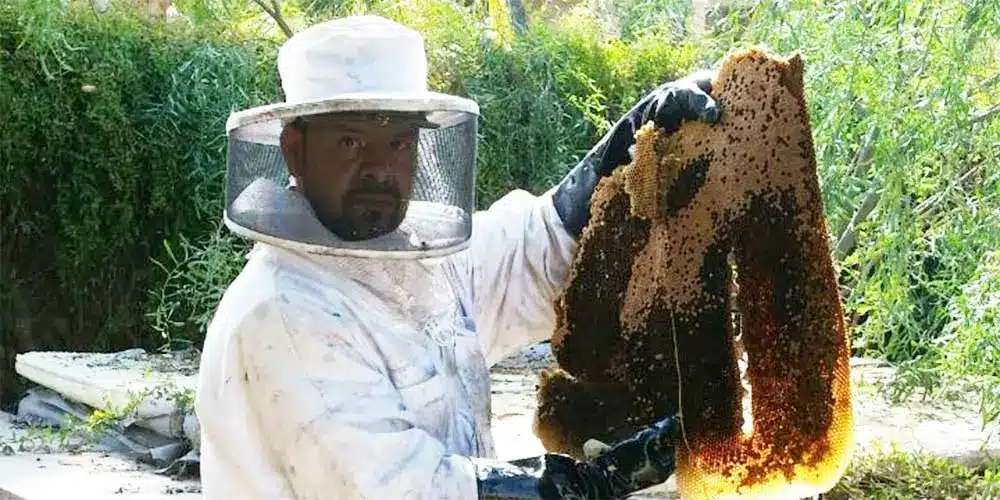 Honeycomb Removal Service, Metro Phoenix AZ
The Beehive Bee and Wasp Removal
We handle all types of beehive infestations, from the basic bee removal and honey bee removals to difficult jobs of removing beehives and honeycomb embedded in structures with construction repairs.
Bee Removal from high places ? No problem, We remove honeycomb and take care of bees in the most hard to reach places.
After year of experience we've learned all the trade secrets. With summer right around the corner we are running into what we call cutout season. That's when beehives have been in the roofs and walls long enough for the bees to make a large bee hive. Bees build quickly and within 2 or 3 weeks the honeycomb should be removed if not it will most likely melt down and possibly causing further repairs. Bees left to themselves and untreated makes for unfavorable recipe that could have greater costs.
Remember: The more time bees have to build a beehive, the bigger the hive will become.
Bees can bring in about a pound of honey per day, depending on the time of year.
After bees get established (usually within 3–4 weeks) and a hive has been built with comb and honey, bees can become aggressive. At this point, you will probably need the honey and comb removed. It's always better to get the bees taken care as soon as you discover them. That way you can hopefully catch it before a sizable colony with large amounts of honeycomb and brood are developed.
We offer professional honey and comb removal from any place where bees set up shop, including roofs, attics, walls, sheds, trees, bushes, commercial buildings, valve boxes and cell phone towers. If there's honey and comb, we'll get it out.
We also offer construction repair work where the bee nest was removed.
The Beehive can help. We want to earn your business the old fashion way with honest quality work with a guarantee to boot. We love bees and hope you do to! Call today we can help.
We promise to always take great care of your property and take the least evasive steps in removing the colony properly.
Any Repair That The Beehive performs, such as Roofs and walls comes with a 3 year guarantee.
Having a beehive on your property can potentially lead to other problems. For instance, large hives on your property can become aggressive at certain times of the day or year. Also, when bee populations increase and bees swarm, that one beehive can quickly turn into two or more.