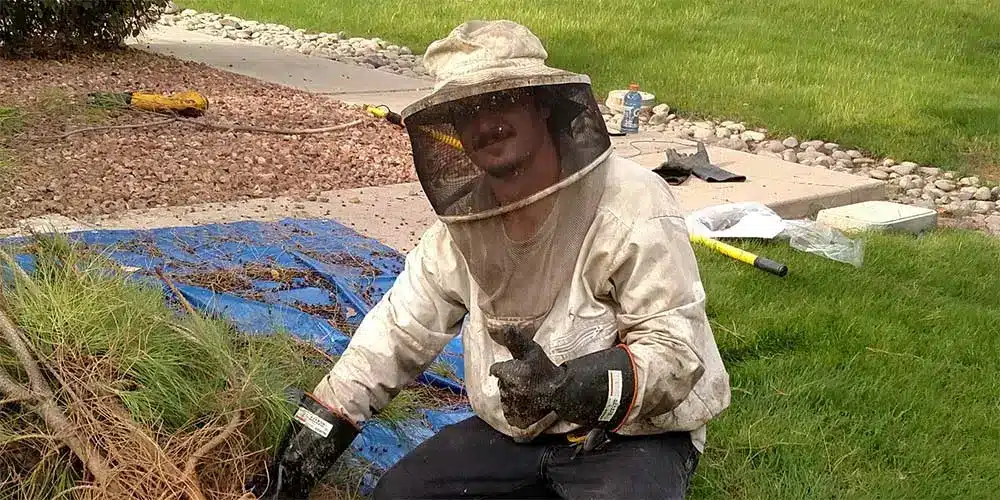 The Beehive Bee and Wasp Removal, Live Removal of Bees & Bee Control in Mesa, Scottsdale, Chandler, Gilbert, Glendale, & Phoenix, AZ
The Beehive – Reputable Bee-Removal Experts, with Unsurpassed Experience!
Fast and Affordable Bee Removal • 1 To 2-Hour Response • Valley Wide Service
"Kevin was professional, courteous and a pleasure to talk with. I will definitely call Kevin at THE BEEHIVE LLC again if needed, and I will be referring him and his company to my family and friends."
– Steve Bragg
Sometimes bee extermination is unavoidable, such as Killer bees or Africanized bees. The rule of thumb is (if the bees are on the outside live bee removal usually can be done) If on the inside usually not, depending on location of the bees. We handle from the most extremely difficult beehive removal jobs to the basic bees in a tree and live honey bee removals. We take care of bees at swimming pools and bees at water features or fountains.
If a beehive is in your attic, columns, block walls, or places where it's impossible to catch them alive, we normally proceed with bee extermination. If you notice bees inside your home, it's very possible there could be a new bee swarm or an established bee colony inside your roof or walls. If so, this means it's time to call THE BEEHIVE. We specializes in quick and thorough bee extermination and beehive removal.
We highly recommend not waiting to remove the bees from your property, because the situation will only get worse. Bees multiply and increase rapidly, and can build a large hive in just four to eight weeks. This can cause additional damage to your home, and may require more than an extermination after the honeycomb is removed (such as repair to your home or cinder block walls).
When a beehive is located near an entrance, a busy location on your property, close to neighbors, or if there are dark-haired animals on or near your property, then there's an increased risk that someone could get stung. Although you may mean no harm to the bees, you could be perceived as a threat if you get too close.
Our company offers beehive removal, wasp control, and extermination of hornets and Africanized bees. We offer bee control for residential and commercial properties and businesses. Whether you have bees, wasps or hornets inside or outside of structures — including in roofs, attics, eaves, valve boxes, sheds, trees, bushes, or walls and voids — we can help to quickly eliminate them.
We're professionals and practice safe bee removal, bee elimination and bee extermination techniques.
Call us today and we'll get the job done right, quickly and safely. We're locally owned and operated.