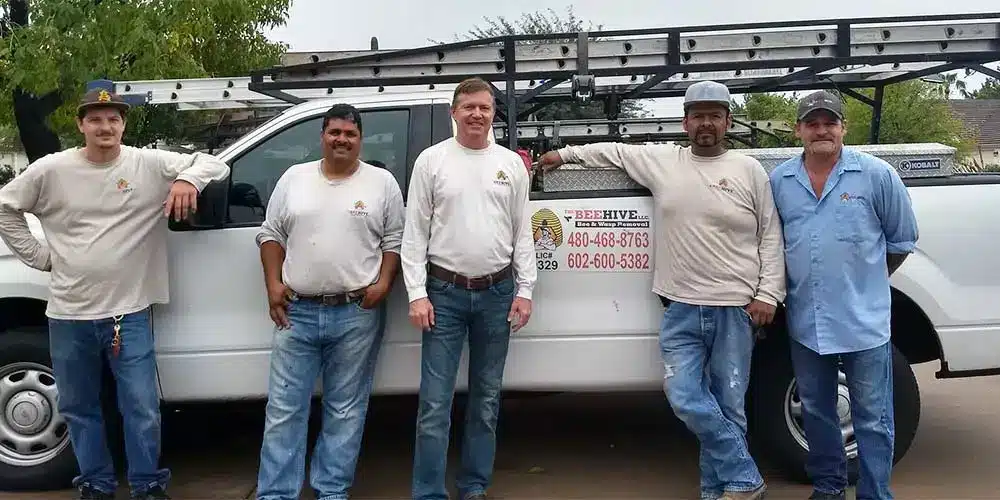 Contact Us: The Beehive Bee and Wasp Removal Mesa, Phoenix, Scottsdale, Tempe, Chandler, Gilbert, Glendale
Fast, Friendly, Professional Bee Removal is Our Specialty! Available Valley Wide
THE BEEHIVE has the most experienced beekeepers and bee removal experts in the metro-Phoenix area.
Please contact us at 602-600-5382
For billing questions or invoices please Email the accounting department at  BeehiveAcctng@gmail.com
To schedule bee removal please call 602-600-5382
Mailing Address
1852 E. Bruce Ave.
Gilbert, AZ 85234
At THE BEEHIVE, we specialize in the most critical or difficult bee problems and bee infestations to the basic bee removal.
We've been beekeepers for well over 30 years, and have extensive experience with bees and bee control.
Serving homeowners, commercial clients, property managers, HOAs, apartment complexes, schools and municipalities, and more.
Specializing in:
Removal of domestic European honey bees
Removal of Africanized bees
Wasp control
Extermination of yellow jackets
Extermination of of hornets
Live bee removal
Bee rescue and relocation
Bee swarm removal
Removal of bees at swimming pools, water fountains
Bee removal from walls, attics, trees and structures of all kinds
Any bee problem you can imagine!
Practicing safe bee elimination and bee control techniques, while protecting your family, pets and property!
Providing Top Quality Service & Keeping our customers happy is our #1 goal.
THE BEEHIVE is locally owned and operated