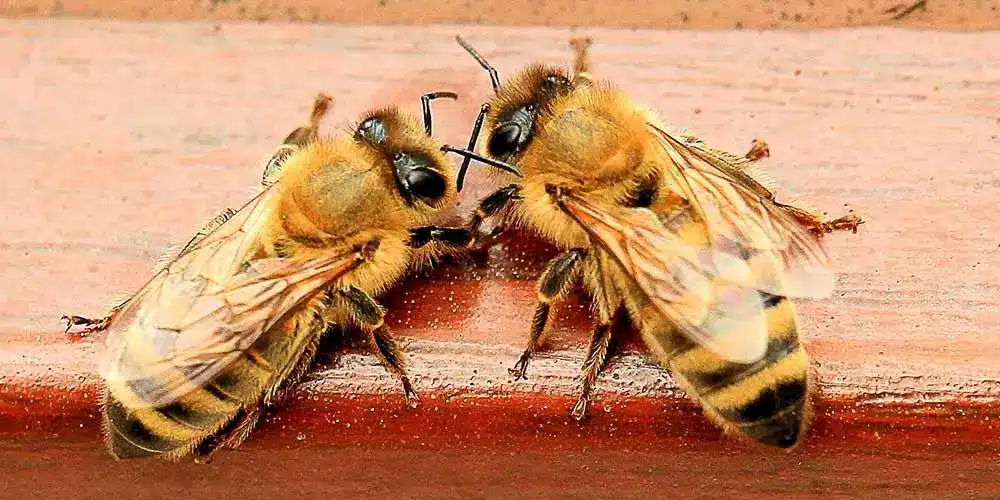 Bee Removal in Phoenix, AZ
Reputable bee removal & control service in Phoenix, AZ.
When choosing a professional bee removal company, you want to pick a reputable experienced company, one that you can trust. At The BEEHIVE, we have been removing bees for over 30 years. Our licensed technicians are some of the best and most experienced in the Phoenix valley. With thousands of happy customers, great reviews and a 90-day guarantee, competitive pricing, we hope to be your (Go to) company. Our team will work very hard to earn your satisfaction and make you a lifetime customer.
Providing fast and reliable Humane bee removal and relocation of European honey bees when possible.
Valley wide professional bee expulsion, we can usually respond within one to two hours.
Complete bee service with state Licensed and Certified Bee Specialist
No matter what type of bee infestation you are experiencing we have the solution including live honeybee rescue..
Have you found bees in the roof or a bee hive in the attic that needs to be removed?
Call us for a honest quote!
Rescuing bees is a great practice when possible, but extermination of Africanized bees is sometimes unavoidable and absolutely necessary — or when they get in places where they just cant be rescued. If you want bees removed alive make sure to let the Technician know you want Live bee rescue.
Some people like seeing honey bees and don't mind letting them stay on their property, until the day comes when the beehive gets over populated and the bees become aggressive. It's important to understand these possible dangers ahead of time so that if you encounter bees on your property you'll know what to do. It's always best to have bees removed as quickly as possible. Bees are vary unpredictable, being tame one day then aggressive the next. Strong well established beehives usually have substantially more guard bees than weaker hives.
You'll love our friendly experienced technicians. When it comes to bee removal, it's our forte. We have over 30 years of experience in dealing with bee removal and bee control. Thousands of home and business owners throughout the Phoenix Metro area already love our service:
"For someone who is allergic to bees and with 3 small kids, I couldn't have asked for better service."
Carrie Ware
"They know bees!!! We had bees get in our exterior wall. Everything the local exterminator told us to do was wrong, which was to spray them to kill them and seal them off. When we did this they started coming in our house. This company came out on a Sunday for the same price as midweek. They removed the hive along with 50,000+ bees from the exterior wall of our house. They were extremely professional, making sure they removed the entire hive — and even vacuuming up the bees, spraying the area to remove the smell, and repairing our wall so you can't even tell they were there. They also have a three-year guarantee/warranty in case the bees return or [if there are any issues] on their repair. Please call them first and you will save yourself a lot of stress and money!"
Rebekah Medrano
Here's why Phoenix residents call us for bee removal services:
FREE estimate
emergency bee removal service
BBB 5 Star rating
Certified
Insured
Licensed, AZ State OPM Certified
References available
Warranties on services provided
Protecting your family, pets and property from invasion of bees and wasps is our specialty. 
Do you have reoccurring bee infestations? The beehive specializes in difficult bee removals, as well as getting rid of bees in common places.
Having been beekeepers for over 30 years means we have extensive experience with bees and bee control. It also means we can be trusted to get the job done quickly and correctly. We are fully compliant with the state of Arizona and the Environmental Protection Agency and the office of pest management.
Serving homeowners, commercial clients, property managers, HOA, apartment complexes, schools and municipalities.
Service prices:
The Prices and cost to removal bees are generally $185 to $225 for bees only, depending on where the bees are located. The honeycomb can be an additional cost to remove for example if the honey and comb are in the attic it would be an additional cost, if the honeycomb was in a valve box in the ground we can remove the honeycomb for free. Call us for a free quote we would be more than happy to answer your questions.
Professional bee and wasp removal in Phoenix Arizona, Experts You Can Trust!
BBB 5 Star Rating!
Specializing in:
Specializing in difficult bee infestations or reoccurring bee problems
Removal of domestic European honey bees
Removal of Africanized bees
Humane bee rescue and relocation
Bee extermination / bee elimination (when needed)
Wasp control
Extermination of yellow jackets or wasps hornet
Removal of bumble bees and carpenter bees
Eliminate bees drinking water at swimming pools or water fountains
Bee removal from walls, attics, trees and structures of all kinds
Extermination of paper wasps
Extermination of mud dauber wasps
Honeycomb removal and cleanup
Construction repair of roofs, drywall, stucco, etc. after a beehive/honeycomb removal
Bee proofing / sealing of your home
Keeping our customers happy is a priority to us. We use safe bee elimination and bee control techniques, while protecting your family, pets and property!
We have great prices, unsurpassed experience, and a full guarantee! Call The Beehive bee and wasp removal today for a FREE estimate!
Locally owned and operated. Gladly providing bee-removal services for all Metro Phoenix AZ.
Free quote and consultation
Emergency service
Valley wide service
Our Services Include:
1-hour, fast response
Humane, live bee rescue and relocation to a beekeeper
Honey bee control, bee removal
Swarm removal
Honeycomb removal & clean up
In-house construction repair work
Removal of bees at your swimming pool or water fountain
Home bee proofing/sealing
Residential and commercial property inspection