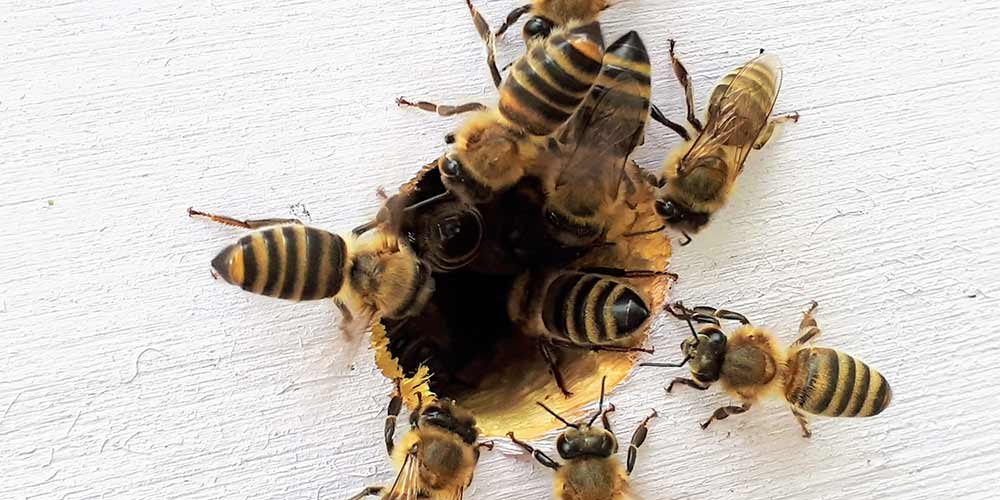 The Beehive Bee and Wasp Removal, Fast bee Control Service in Peoria, AZ.
Looking for Great Prices and Excellent Bee Removal Service in Peoria AZ?
Have you found a beehive at your property recently? Or have bees been hanging around your home for a while? If so, it's best to take action immediately before the bees become well established. The bigger the beehive gets, the more guard bees it'll have — and then that's when the bees are more prone to attack.
Full service bee removal with state of the art techniques, including live honeybee rescue.
Although most bees in the valley are European honey bees and not Africanized bees, they can still become aggressive.
We specialize in bee removal and bee control of all flying and stinging insects in Peoria.
When a bee nest gets over populated, it will swarm. This means that about half the bees from the colony will leave the parent beehive and take up residence at another location, oftentimes at homes or businesses. If you find bees on your property, don't wait to get them taken care because it will only get worse.
Once established, a beehive can become more aggressive at certain times of the day or year. It's best to be proactive about bees and take action as quickly as possible.
Live bee removal, bee extermination and bee control in Peoria is our specialty, as well as removal of wasps, hornets and bumble bees. If we can keep the bees alive, we will perform a live bee rescue and relocation. Bees are an essential part to our agriculture, and we'll give the live bees to a beekeeper.
At THE BEEHIVE, we specialize in domestic honey bee removal and Africanized bee extermination, as well as honey and comb removal. We also eradicate wasp nests, bumble bees, hornets and offer live bee removals (when possible). Have bees at your swimming pool? We have treatments for that too.
Valley-wide Bee and Wasp Removal Services Include:
Bee removal
Bee control
Bee extermination
Swarm removal
Live bee removal
Property inspections
Home bee proofing/sealing
Wasp, yellow jacket, hornet, bumble bee extermination
Bees at drinking water supplies, swimming pools or water fountains
Beehive and honeycomb removal
Humane, live bee rescue and relocation in Phoenix, Arizona (when possible)
Construction repair (if necessary) & honey clean-up
Residential and commercial property inspection