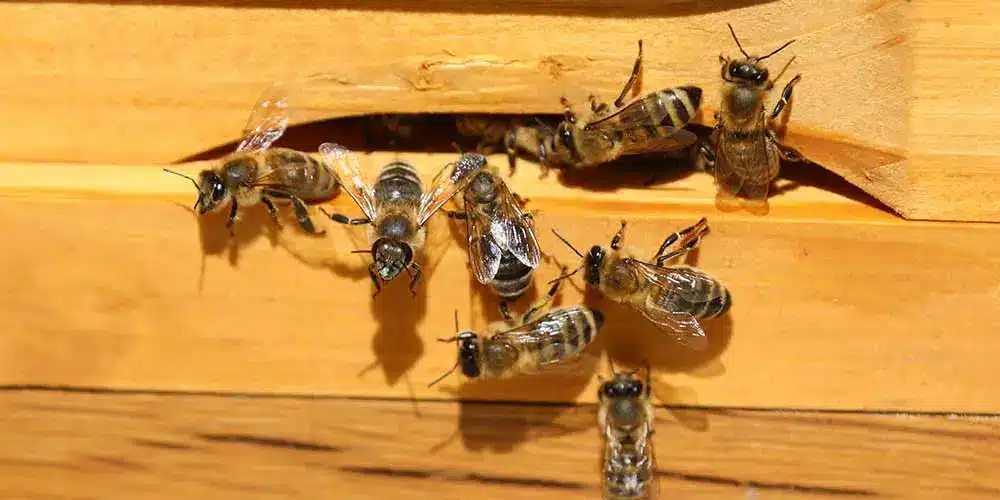 Bee Removal & Wasp Control in Litchfield Park, AZ. & Surrounding Cities
F16s are Not the Only Things Flying Around Litchfield Park — There Are Bees & Wasps Too! 
The Beehive bee and wasp removal, proudly serves Litchfield Park, AZ, as well as the entire Metro Phoenix area.
We know how important it is for you to keep your family safe and happy. The last thing your family needs is to be terrorized by agitated bees. Call us today. We'll typically be at your home within an hour.
Beehive removal in Litchfield Park is our forte. We have over 30 years of experience in dealing with beehives and bee control. We've served thousands of home and business owners throughout Litchfield Park and the Phoenix metro area
At THE BEEHIVE, we specialize in domestic honey bee removal and Africanized bee extermination, as well as honey and comb removal. We also eradicate wasp nests, bumble bees, hornets and offer live bee removals (when possible). Have bees living near or at your swimming pool? We have treatments to take care of that too.
We have same-day service and FREE bee removal estimates for Litchfield Park residents.
When bees swarm, they're looking for a place to build a new beehive. Often it's at residential homes or businesses. Although think it's nice to have them around, bee extermination is sometimes needed for your own protection. Whenever possible, we try to avoid extermination and keep the bees alive and find a new home for them, if we can. If the bees are found soon enough a live bee removal can often be done.
It's important to have the bees removed as soon as possible so they don't build a bee colony with lots of honeycomb.
All of our technicians are experienced and licensed, You'll also find them honest, professional and friendly.
We will match any competitor's written estimate.
THE BEEHIVE bee and wasp removal is a local family owned business.
Valley-wide Bee and Wasp Removal Services Include:
Bee removal
Bee control
Bee extermination
Swarm removal
Live bee removal
Property inspections
Home bee proofing/sealing
Wasp, yellow jacket, hornet, bumble bee extermination
Bees at drinking water supplies, swimming pools or water fountains
Beehive and honeycomb removal
Humane, live bee rescue and relocation in Phoenix, Arizona (when possible)
Construction repair (if necessary) & honey clean-up
Residential and commercial property inspection