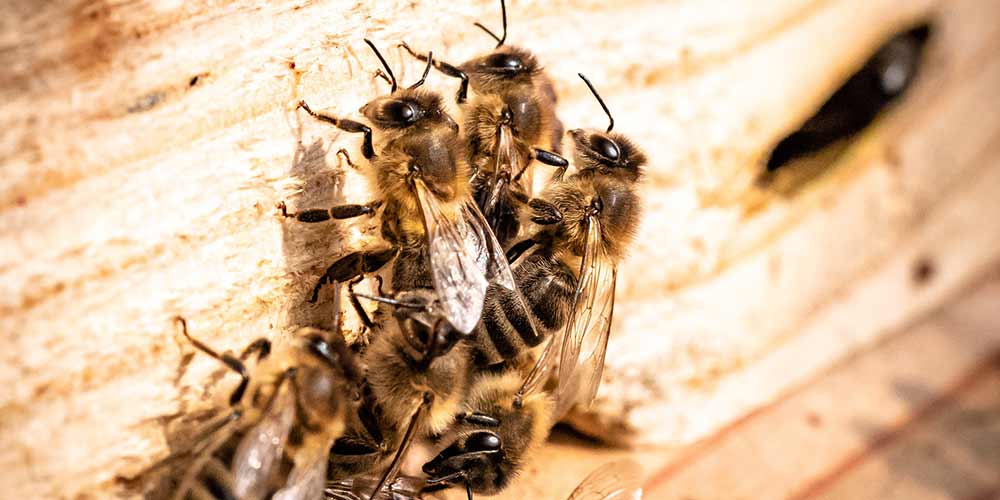 Bee Removal and Wasp Nest Removal in Laveen Village, AZ. & Surrounding Cities
The Beehive Bee and Wasp Removal, is Your Affordable Bee Removal Service!

Technicians on site usually within an hour or two. Live bee relocation and rescue, If you want "Live Bee Removal"  Let the service Tech know.
If you need Emergency bee removal, Wasp Nest Removal, Bee Prevention or Honeycomb Removal and Repair Service we are here to help.
Get your bees taken care of today, they will only get stronger if you wait. 
Expert Bee Control Just one phone call away, See for yourself!
Have you found a beehive at your property recently. Or, maybe the bees have been there a while?
If so, it's best to take action immediately before the bees can become well established.
The bigger the beehive gets, the more guard bees they have. And that's when the bees are more prone to attack.
One-Hour Response! Best Prices!
Here's what one of our customers said
"Today I was fortunate to connect with The Beehive Bee and Wasp Removal company to complete a service requested by a house inspector. The ENTIRE experience was excellent. From the first phone call, to the reasonable quote and quick responsiveness, I was sold. To top it off, I had to pleasure of working specifically with Ray. Ray was timely, professional and extremely knowledgeable about the service that he provided. Having lived in the Valley for over 7 years, I have not had much need for this service but working with Ray has definitely place this company at the top of the list and I will be sure to share the word with others. Great service is hard to come but I had a quality experience today with Ray and The Beehive Bee and Wasp Removal company".
MoniqueA Williams.
We Have Unsurpassed Experience! Bee Hive Removal is our specialty with over 30 years in dealing with bees & bee control. We have served thousands of home & business owners throughout the valley. We practice safe elimination and control techniques, Protecting your family, pets and property from invading bees and wasp!
We handle lots of different kinds of bee problems.
We can remove and repair block walls as well, every kind of roof repair & stucco textures as well as synthetic stucco or drywall.
The Beehive serves all of Metro Phoenix!
We specialize in extreme or difficult problem job's as well as basic Bee or Wasp removals, We handle the removal of Africanized Bees, European Honey Bees, Wasp, Yellow Jackets, Hornets, live bee rescue and bee relocation, honey bee swarms, Bees at or around swimming pools or water fountains, and other bee and stinging insect problems.
Call us today and we will get the job done right, quickly and safely. Best Bee Removal Service in the Valley with over 30 years of Unsurpassed Experience in Beekeeping and Bee Removal and Repair. Fast, Friendly and Affordable. We take care of all kinds of bee problems. We offer the best and reasonable prices!
We specialize in bee removal and bee control of all flying and stinging insects.
Most beehives we encounter are domestic honey bees — which is contrary to popular belief or what you may hear on the news or from other pest control companies. Nevertheless, honey bees can post a real health risk. They can be gentle one day, and then aggressive the next. Africanized bees and domestic honeybees look the same. For that reason we recommend getting your bee problem taken care by a professional, of as soon as you find bees have moved in.
Bee control should be left to a professional that knows how to handle a bee nest safely. Do not try to use store-bought products for bee extermination, it can exacerbated the problem.
BBB A+ Rating
Licensed #9329 , Bonded, & Insured!!!
Getting stung takes some getting used to, and we assume that's not something you'd like to personally brag about. But after over 30 years in this business, we're prepared to take any stings for you while we quickly and efficiently remove your beehive.
As beekeepers, we specialize in beehive removal in Laveen Village, AZ. You'll enjoy our affordable bee removal services.
Valley-wide Bee and Wasp Removal Services Include:
Bee removal
Bee control
Bee extermination
Swarm removal
Live bee removal
Property inspections
Home bee proofing/sealing
Wasp, yellow jacket, hornet, bumble bee extermination
Bees at drinking water supplies, swimming pools or water fountains
Beehive and honeycomb removal
Humane, live bee rescue and relocation (when possible)
Construction repair (if necessary) & honey clean-up
Residential and commercial property inspection