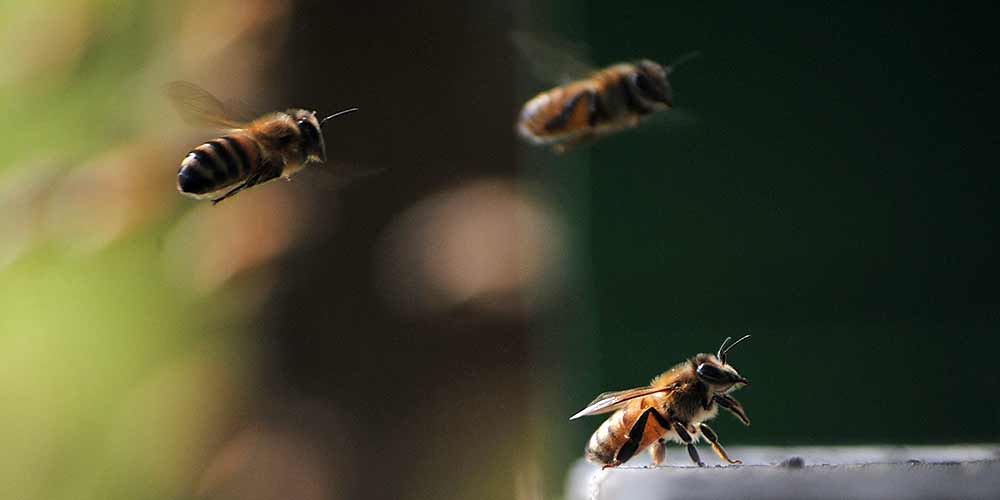 The Beehive Bee and Wasp Removal, Bee Removal Specialists in Goodyear, AZ. & Surrounding Cities
Goodyear AZ's Bee Removal and Bee Control Experts
At THE BEEHIVE, we offer affordable bee removal for residents in Goodyear, AZ. You'll love our unsurpassed experience in bee and wasp elimination, with our start-to-finish approach for any and all of your bee control needs in Goodyear!
Bees are very industrious. After a bee swarm settles in and establishes a bee nest, they build a beehive with comb and honey every day. After 3 to 4 weeks of building the beehive, it may pose a danger to your family and need to be removed. It's best to have the bees taken care of before a beehive is established.
We have same-day service — in fact, we can usually be at your house within 1 hour. Call today for a free phone quote. Our experts can help you be more informed about your bee removal decisions, and the best course of action for you to take.
At The Beehive, we specialize in domestic honey bee removal and Africanized bee extermination, as well as honey and comb removal. We also eradicate wasp nests, bumble bees, hornets and offer live bee removals (when possible). Have bees at your swimming pool? We have treatments for that too.
We have been beekeepers for over 30 years. That means we have extensive experience with bees and bee control.
We serve homeowners, commercial clients, property managers, HOAs, apartment complexes, schools and municipalities throughout Goodyear.
Fast, Friendly and Reliable Bee & Wasp Removal Service in Goodyear. Valley Wide Service.
We control and eliminate all types of bees, including:
Africanized bees
Domestic bees
Carpenter bees
European honey bees
Bumble bees
We also provide wasp control and wasp removal and extermination services, including:
Yellow jackets
Hornets
Paper wasps
Mud dauber wasps
In addition, where possible we provide live bee removal and bee rescue and relocation
If you need bee swarm removal, are dealing with bees at your swimming poo or water fountain, need bees removed from walls, attics, trees or any kind of structure — or have other bee problems — then call THE BEEHIVE for a FREE QUOTE today.
We practice safe bee elimination and bee control techniques so that your family, pets and property are protected.
Locally owned and operated.
Valley-wide Bee and Wasp Removal Services Include:
Bee removal
Bee control
Bee extermination
Swarm removal
Live bee removal
Property inspections
Home bee proofing/sealing
Wasp, yellow jacket, hornet, bumble bee extermination
Bees at drinking water supplies, swimming pools or water fountains
Beehive and honeycomb removal
Humane, live bee rescue and relocation in Phoenix, Arizona (when possible)
Construction repair (if necessary) & honey clean-up
Residential and commercial property inspection