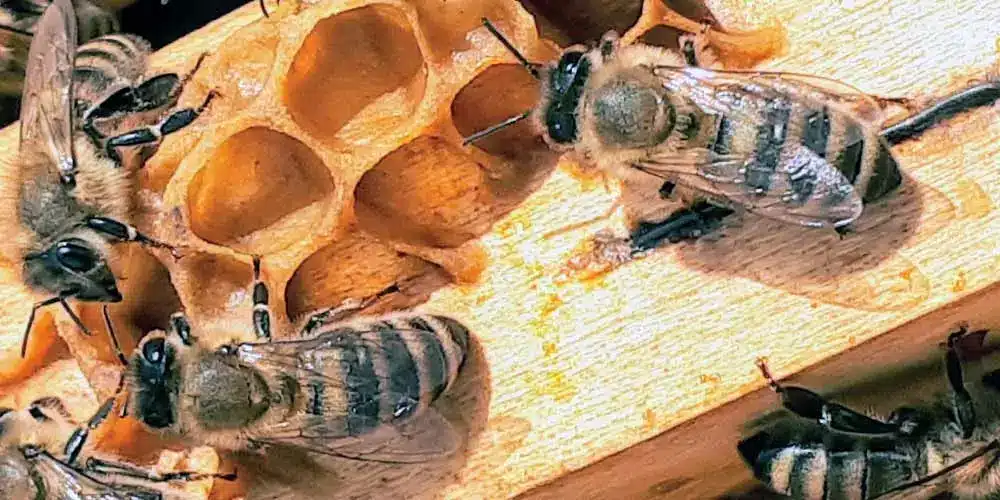 The Beehive Bee and Wasp Removal Service in Buckeye, AZ. & Surrounding Cities
"They know bees!!!"
– Rebekah Medrano
Customers in Buckeye Arizona love us. Bees in Buckeye despise us.
That's because THE BEEHIVE are pros at bee and wasp removal. Plus, our prices, fast-response time and unsurpassed customer service has produced happy customers throughout the Valley!
We provide bee removal and live bee removal service to all parts of Buckeye, including Sundance, Verrado, Westpark, Tartesso, Festival Ranch, Douglas Ranch, Sun Valley Villages, Spurlock Ranch, Trillium, Elianto, Westwind, Silver Rock, Sienna Hills, Henry Park, Southwest Ranch and Montierre. Yes, we have Buckeye covered.
Because honey bees are essential, we strive to do bee rescue and relocation whenever possible. In fact, we have a beekeeper that we give bee swarms to. But Africanized bees, well, that's a different story. They require extermination.
THE BEEHIVE specializes in all aspects of bee control (as well as control and other fling and stinging insects), including:
Bee removal
Bee control
Bee extermination
Swarm removal
Live bee removal
Property inspections
Home bee proofing/sealing
Beehive and honeycomb removal
Wasp, yellow jacket, hornet, bumble bee extermination
Africanized bee extermination
Bees at drinking water supplies, swimming pools or water fountains
Humane, live bee rescue and relocation in Buckeye, Arizona
Construction repair (if necessary) & honey clean-up
Residential and commercial property inspection
We have extensive experience in solving even the most difficult, challenging bee problems — and we can do so quickly and safely.
THE BEEHIVE serves all of metro Phoenix! We practice safe elimination and control techniques and are here to protect your family, pets and property from invading bees and wasps.
Beehive removal is our forte. We have over 30 years of experience in dealing with bee nests and bee control. We've served thousands of home and business owners throughout the Phoenix metro area.
We specialize in extreme or difficult problem jobs, as well as basic bee removals.
What do you have plaguing your property currently? Doesn't matter because we control and eliminate all types of bees, including:
Africanized bees
Domestic bees
Carpenter bees
European honey bees
Bumble bees
Call us today and we will get the job done right, quickly and safely. We are locally owned and operated. Open 24/7 Best Bee Removal Service in the Valley with over 30 years of Unsurpassed Experience in Beekeeping and Bee Removal and Repair. Fast, Friendly and Affordable. We take care of all kinds of bee problems. We offer the best and reasonable prices — and estimates are always free!
We're bonded, licensed and insured (Lic.# 9329). And our technicians are state certified and licensed.
You name it: honey bee removal, live bee rescue, bee relocation, wasp control, bee extermination, bee swarm removal, bees at swimming pool — there's nothing we can't take care of.
If you have a bee of wasp problem the you need taken care of, rest assured we can help.
Call THE BEEHIVE today. We'll be glad to serve you, and you'll love our guaranteed services!
Why Buckeye Residents Choose THE BEEHIVE:
Recommended by pest control companies throughout the Valley
BBB Member
We specialize only in bee control, wasp and other stinging insects
More than 30 years of unsurpassed experience
Friendly and professional technicians
State certified technicians
Licensed, bonded and insured
Unsurpassed experience
Emergency service available
Great customer service
Our extensive construction experience makes us the best choice for any repair work needed after bee removal
All work guaranteed
On Angie's List
Thousands of satisfied customers
1-hour response time
HOA-, family-, business-, property management-friendly
Locally owned and operated