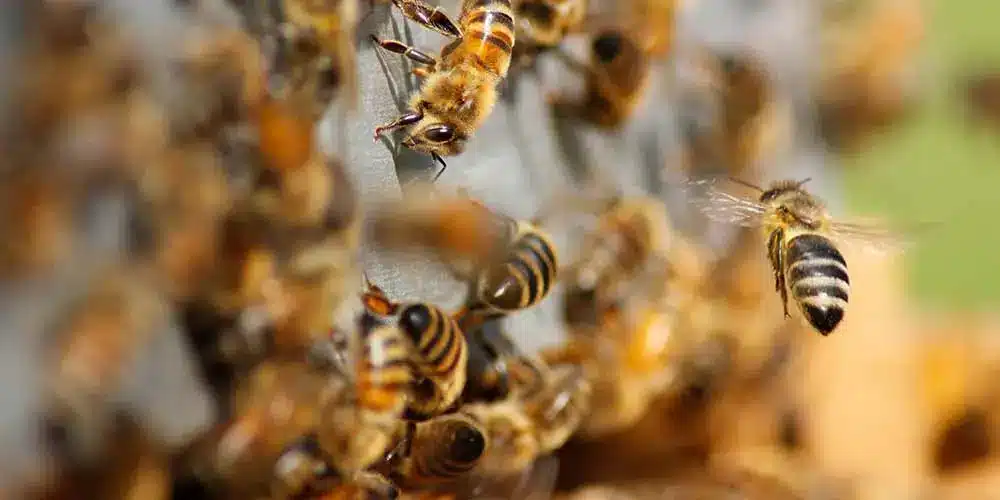 The Beehive Bee and Wasp Removal, Fast Bee Removal Service in Avondale, AZ. & Surrounding Cities
The Beehive: Known for Unsurpassed Experience When it Comes to Bee Removal!
We provide fast, friendly and surprisingly affordable solutions to all bee and wasp problems in Avondale.
Welcome to The Beehive bee and wasp removal! We're a BBB member (with an A+ rating) for our valued customers. We've served thousands of satisfied customers in Avondale and throughout the Valley! We have extensive experience with bee removal. In fact we ONLY specialize in bee and wasp control! If it stings and flies, we take care of eliminating it. We're family owned and operated, with old fashioned values of honesty and integrity!
Avondale has a serious problem with wild feral bees. And it's impossible to tell if the bees are Africanized bees or domestic honey bees just by looking at them.
We highly recommend not treating the beehive yourself. It's always best to call a professional company that knows how to safely handle a bee nest properly.
Bee Extermination and Bee Control, Wasp,
Hornets and Beehive Removal is All We Do
We remove bees from residential and commercial structures, as well as from many other types of buildings. We also remove bee nests from roofs, walls, attics, chimneys, columns, in voids and much more.
Honeybees will build their hives inside of structural voids. If left untreated for over 3 to 4 weeks, the honey and comb may need to be removed. It's always best to take care of the problem as soon as possible.
Rest assured that not all bee nests are Africanized; there are domestic bees in the Valley as well — but they look identical.
It's common to have bees at your pool. But fret and fear not — we have a treatment for that as well.
Bee extermination or bee removal, as well as extermination of wasps, bumble bees, hornets and yellow jackets and bees at a swimming pools is our specialty.
Being seasoned beekeepers, we know how to handle and specialize in live bee rescue and relocation as well.
If it flies and stings, we can get rid of it… Guaranteed!
"Excellent service, good communication, reasonable prices, professional work. Thanks!"
– Mario Cesar Chavez
If you need more information, call 623-910-4452 today we'll be glad to help YOU and other Avondale residents!
Why Choose THE BEEHIVE?
More than 30 years of unsurpassed experience
Friendly and professional technicians
State certified technicians
Licensed, bonded and insured
Emergency service available
Great customer service
Our extensive construction experience makes us the best choice for repair work
Work guaranteed
On Angie's List
Thousands of satisfied customers
HOA-family-business-property management friendly
Locally owned and operated
Specializing in difficult problem bee infestations or reoccurring bee problem
Bee removal of domestic European honey bees
Live bee removal and relocation / humane bee rescue
Control of Africanized bees
Bee extermination / bee elimination (when needed)
Wasp control / paper wasp / mud dauber wasp extermination
Bee swarm removal
Extermination of yellow jackets / extermination of hornets
Control of bumble bees / control of carpenter bees
Removal of bees drinking at swimming pools or water fountains, or bees drinking at water features
Bee removal from walls, attics, trees and structures of all kinds
Honeycomb removal and cleanup
Construction repair of roofs, drywall, stucco, etc. after beehive/honeycomb removal
Bee proofing / sealing of your home
Property inspections
Our Services Include:
Bee control, wasp extermination, and removal of other stinging insects
Live bee rescue and relocation to a beekeeper
Beehive removal and extermination and bee control
Fast, 1-hour response
Honey and comb removal
Complete construction repair
Free quote and consultation
Bee removal at your swimming pool or water fountain
Home bee proofing/sealing
Residential and commercial property inspection