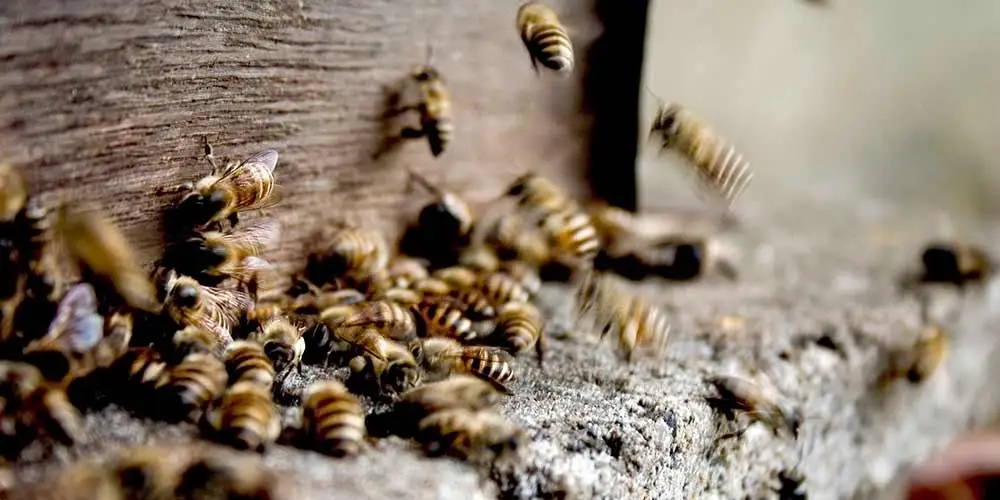 Bee Removal and Wasp Removal Service in San Tan Valley, AZ.
San Tan Valley's Bee Removal Expert is "The Beehive Bee and Wasp Removal"
You'll love our fast, friendly and reliable service. And you'll really love our affordable prices!
The Beehive specializes in bees and other stinging insects, bee extermination, bee control, and live bee rescue and relocation. We also offer wasp, hornet and yellow jacket extermination; honeycomb removal; control of Africanized bees and domestic wild honey bees, and repair work where the bee nest was removed.
We've been beekeepers and working with bees for over 3 decades. That means we know how to handle even the most extreme cases. Not all bees in the Valley are Africanized (contrary to what you might hear), but we recommend removing any beehive you find right away before the bee nest/beehive becomes established.
If you need bee swarm removal, are dealing with bees at your swimming pool or water fountain, need bees removed from walls, attics, trees or any kind of structure — or have other bee problems — then call THE BEEHIVE for a FREE QUOTE today.
We practice safe bee removal or bee elimination and bee extermination techniques.
Call us today and we will get the job done right, quickly and safely. We're locally owned and operated. And remember, we're Open 6AM to 9PM Closed Sunday
Valley-wide Bee and Wasp Removal Services Include:
Bee removal in San Tan Valley, AZ
Bee control in San Tan Valley, AZ
Bee extermination in San Tan Valley, AZ
Swarm removal in San Tan Valley, AZ
Live bee removal in San Tan Valley, AZ
Property inspections in San Tan Valley, AZ
Home bee proofing/sealing in San Tan Valley, AZ
Wasp, yellow jacket, hornet, bumble bee extermination in San Tan Valley, AZ
Bees at drinking water supplies, swimming pools or water fountains in San Tan Valley, AZ
Beehive and honeycomb removal in San Tan Valley, AZ
Humane, live bee rescue and relocation in San Tan Valley, AZ (when possible)
Construction repair (if necessary) & honey clean-up in San Tan Valley, AZ
Residential and commercial property inspection in San Tan Valley, AZ
Honey and comb removal in San Tan Valley, AZ
Repair work (if required after removing a beehive) in San Tan Valley, AZ
Bee removal for residential and commercial property inspection in San Tan Valley, AZ