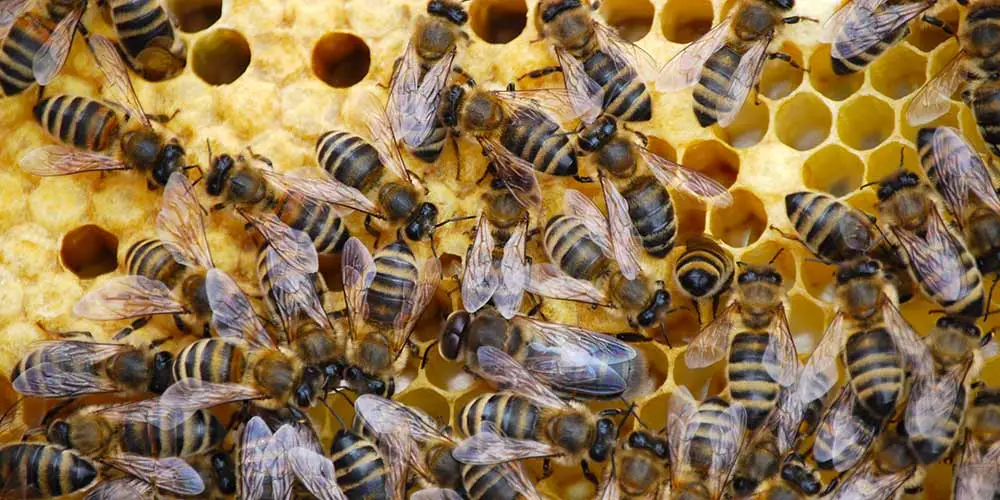 Expert Bee Removal in Mesa, AZ. Valley Wide Service.
We specialize in live bee removal and bee control, wasp extermination, and removing all flying and stinging insects.
Have you recently found bees on your property? Or maybe some wasp or other flying and stinging insects? If so, it's best to take action immediately to eliminate the bees before they become well established. We can also remove all honey and comb plus do any necessary repairs as well if needed.
Need to know how to get rid of bees at a pool, pond or fountain?  Call The Beehive for a free quote.
The Beehive's bee and wasp removal is Arizona's # 1 Bee Expulsion and Removal Service
"I'm glad I chose THE BEEHIVE bee and wasp removal to do the job.
Kevin was very knowledgeable and professional, and did a great
– Tom W.
We have unsurpassed experience! Beehive removal is our forte, with over 30 years of experience in dealing with bees and bee control. We've served thousands of home and business owners throughout the Valley. We practice safe bee elimination and control techniques, protecting your family, pets and property!
Some people like seeing a beehive and don't mind letting the bees stay on their property, until the day comes when the beehive gets over populated and the bees become aggressive — then removing the beehive suddenly becomes an urgent matter. It's important to avoid the potential dangers that could occur from an established bee colony. We like to save honey bees when possible, but sometimes the only choice is bee extermination — especially when Africanized bees are involved.
Free estimate
Emergency bee removal service
Arizona State Certified
Insured
Office of pest Licensed
Locally owned
References available
Warranties on services provided
At The Beehive you'll find the best technicians, all State certified  by Arizona Department of Agriculture Office of Pest Management
We're committed to customer safety and 100% satisfaction. Honest quality work is what you'll get from us — just ask any of our customers.
"I discovered a large beehive attached to the front of my home, basically hidden, but in plain view. I called The Beehive and within 30 minutes Kevin arrived at my home. As advertised: fast, friendly, and reliable. Kevin's years of experience and his knowledge, along with his friendly and respectful demeanor, really impressed me. Best of all, the bees and the hive are gone. Kevin even took the time to show me the large hive he removed. I highly recommend The BEEHIVE to anyone with a bee problem like I had."
– Wence Valer
We specialize in the most difficult problem bee infestations to the basic bee removal.
We have extensive experience with bees and bee control.
We serve the entire Valley, and then some.
We serve homeowners, commercial clients, property managers, HOA, apartment complexes, schools and municipalities.
Fast, Friendly and Reliable Bee & Wasp Removal Service — Service, Valley Wide!
Specializing in:
Specializing in difficult problem bee infestations or reoccurring bee problem
Bee removal of domestic European honey bees
No kill, live bee removal and relocation / humane bee rescue
Control of Africanized bees
Bee extermination / bee elimination (when needed)
Wasp control: paper wasp and mud dauber wasp
Bee swarm removal
Extermination of yellow jackets or wasps
Extermination of hornets
Control of bumble bees
Control of carpenter bees
Bees drinking at swimming pools or water fountains, and bees at drinking at water features
Bee removal from walls, attics, trees and structures of all kinds
Honeycomb removal and cleanup
Construction repair of roofs, drywall, stucco, etc. after beehive/honeycomb removal
Bee proofing / sealing of your home
Property inspections
City of Mesa bee removal. AZ State OPM Certified, Professional bee and wasp removal, Experts you can trust — BBB Member, A+ Rating!
Practicing safe bee elimination and bee control techniques, while protecting your family, pets and property!
For your safety, do not try to remove a beehive or exterminate wasps yourself with store-bought products. This is very dangerous.
All work is guaranteed/warranted. If honeycomb is present it may need to be removed to validate guarantee.
Bees drinking water, guarantee is exempt.
Valley-wide Bee and Wasp Removal Services Include:
Live bee rescue and relocation to a beekeeper (when possible)
Bee and wasp extermination/removal
Bee control
Bee nest removal
Honeycomb removal
Honey clean up
Construction repair on residential and commercial property
Bees at or around swimming pools or water fountains
Home bee proofing / home sealing
Preventative treatments for bees
Residential and commercial property Inspection
Ask for Your Free Quote and Consultation
Our work is GUARANTEED and insured!