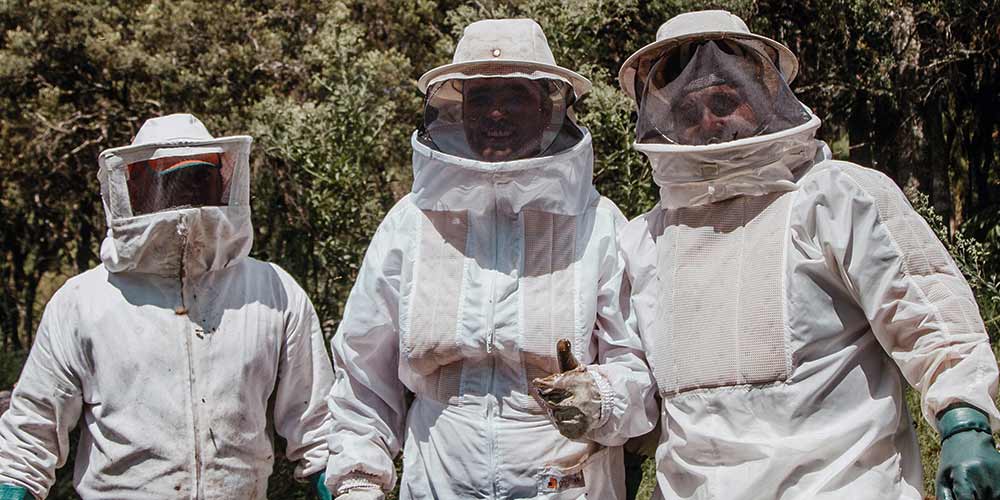 The Beehive Bee and Wasp Removal, Bee Removal Service in Gilbert, AZ. & Surrounding Cities
If you've noticed Bees or a bee nest around your home or business in Gilbert, Arizona,
Your at the right place because Bee removal and Wasp control is all we do.
Rest assured THE BEEHIVE can safely remove them without harm to you, your family your pets or (if you're a business) your customers.
We understand the urgency in these situations, and we strive to handle all bee problems Usually within 1 to 2 hours!
At The Beehive, We Have Over 35 years of Unsurpassed Bee Removal Experience!
We really KNOW Bees!
"I recently had a HUGE colony of bees and a beehive up in the second story eaves in my Gilbert home. I found THE BEEHIVE LLC on the Web, saw the positive reviews, and decided to call. Kevin Hodgson answered and I told him that I needed a bee and hive removal ASAP. He asked a few questions and gave me a quote (which was quite reasonable) and he offered a guarantee as well. Then Kevin said that he could be at my home within 20 minutes to take care of the problem. Kevin showed up 20 minutes later and quickly removed the bees and hive. Kevin was professional, courteous and a pleasure to talk with. I will definitely call Kevin at THE BEEHIVE again if needed, and I will be referring him and his company to my family and friends."
– Steve Bragg
Our professional technicians utilize the safest products for bee control and our techniques will effectively eliminate any bee hive or wasp problem. When it comes to bee removal in Gilbert, AZ, we're the experts you'll want to call first!
Emergency Bee Removal Available!
We stand apart from the others because of our knowledge, skill and experience as beekeepers.
We specialize in bee control, wasp control, honey and comb removal, bee hive removal and any necessary repair work (as a result of our bee removal services).
If you have bees at your home or business in Gilbert, Arizona, don't wait to get them taken care of. Why? Because the beehive will only get bigger, and a big beehive is usually more aggressive with lots of guard bees. It will have a substantial honeycomb that will likely need to be removed.
Call today… we know how to handle any and all bee problems! Our friendly and courteous technicians will get the job done right. And it's guaranteed!
We serve homeowners, commercial clients, property managers, HOA, apartment complexes, schools and municipalities throughout Gilbert, AZ.
Fast, friendly and affordable! And we're locally owned and operated.
Recommended by pest control companies throughout the Valley
More than 30 years of unsurpassed experience
Friendly and professional technicians
State certified technicians
Licensed, bonded and insured
Unsurpassed experience
Emergency service available
Great customer service
Our extensive construction experience makes us the best choice for repair work
Work guaranteed
Thousands of satisfied customers
1-hour response time
HOA-family-business-property management friendly
Locally owned and operated
Our Services Include:
Valley wide bee removal service
Live bee rescue and relocation
Bee extermination and bee control
Honeycomb/beehive removal
Construction repair at bee nest location
Removal of bees at swimming pools or water fountains
Complete home bee proofing/sealing
Residential and commercial property inspection
Bee control, wasp extermination, and control of other stinging insects