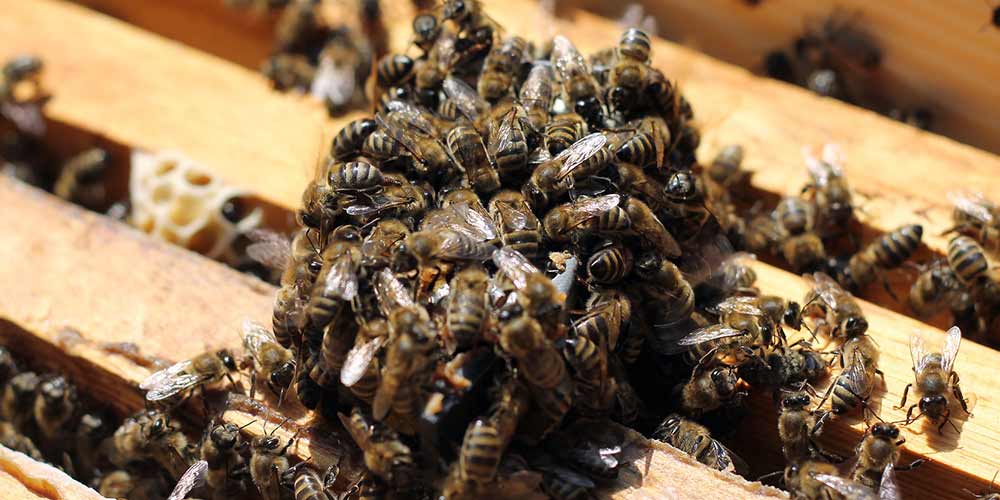 The Beehive Bee and Wasp Removal, Bee Removal & Wasp Removal Service in Ahwatukee Foothills Village, AZ. & Surrounding Cities
Because of its proximity to South Mountain and the Gila River Indian Community, Ahwatukee Foothills Village has lots of bees. In fact, Ahwatukee has a problem with bees coming from South Mountain to drink water at pools and water fountains.
The Beehive specializes in the removal of bee when drinking water and a host of other bee related problems.
Call Us Today, we can help
Have you found a beehive recently? Or honey bees poking around on your property? Or maybe a swarm of bees in a backyard tree? Or, do you have bees at your swimming pool or water feature/fountain?
If so, it's important to take action quickly. Even though they may seem harmless at first, if left on their own a swarm of bees can quickly turn into a thriving beehive.
Most beehives that we see are created by honey bees, but even honey bees can be very unpredictable. They can behave tame at times and they suddenly become aggressive at other times for no reason. And did you know honey bees grow fast and can build a 200-pound beehive within a matter of months?
That's why all bee nests should be removed without delay.
Bee removal is our expertise. We specialize in beehive removal and wasp removal, as well as other flying and stinging insects.
"I recently had a HUGE colony of bees and a beehive up in the second story eaves. I found THE BEEHIVE LLC on the Web, saw the positive reviews, and decided to call. Kevin Hodgson answered and I told him that I needed a bee and hive removal ASAP. He asked a few questions and gave me a quote (which was quite reasonable) and he offered a guarantee as well. Then Kevin said that he could be at my home within 20 minutes to take care of the problem. Kevin showed up 20 minutes later and quickly removed the bees and hive. Kevin was professional, courteous and a pleasure to talk with. I will definitely call Kevin at THE BEEHIVE again if needed, and I will be referring him and his company to my family and friends."
– Steve Bragg
Live bee removal and bee relocation to a beekeeper is a good option that we also consider (just depends on the situation).
You'll find we have unsurpassed experience when it comes to bee removal.
We specialize in difficult problem jobs, such as honey melting out, re-infestations, or hard-to-reach places.
Whether it's bumble bees, Africanized bees, domestic honey bees, hornets or wasps, we can take care of them. Doesn't matter where they've set up their "home" — in the attic, eves, backyard cinder block wall, tree — we'll have them removed quickly and efficiently.
We're Ahwatukee's Honest, Reputable Bee-Removal Experts
Call today 602-600-5382
Beehive Removal Service Valley Wide!
Valley-wide Bee and Wasp Removal Services Include:
Live bee rescue and relocation to a beekeeper (when possible)
Bee and wasp extermination/removal
Bee control
Bee nest removal
Honeycomb removal
Honey clean up
Construction repair on residential and commercial property
Bees at or around swimming pools or water fountains
Home bee proofing / home sealing
Preventative treatments for bees
Residential and commercial property Inspection
Ask for Your Free Quote and Consultation
Our work is GUARANTEED and insured!